Latest publication from CyMoBase
This is the update of our 2007 Genome Biology study about myosins.
M. Kollmar & S. Mühlhausen (2017)

BMC Evolutionary Biology 17, 211.
A database for cytoskeletal and motor protein sequence information
Do you know?
Search Module: Taxonomy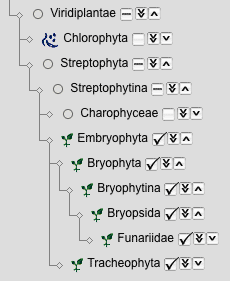 The Taxonomy Search Module offers tables containing specific subsets like a selection of major taxa or a range of model organisms. This Search Module also provides a taxonomic tree representation for the selection of taxa and species.
On top of the tree representation, there are two autocompletion input fields, one for taxa and one for species names. The species name input field accepts all different types of names, the scientific names, the alternatively used names, common names, and the anamorphs, while it selects the scientific reference name. After submission of the taxon/species name search, the taxonmy tree is reloaded with the selected taxon/species name opened.
Instead of searching for taxa or species names, taxa and species can be browsed and selected by expanding/collapsing and including/excluding subsections of the tree.
Newest sequences in CyMoBase
No sequences added to CyMoBase in the last year.