A database for cytoskeletal and motor protein sequence information
Do you know?
Search Module: Domains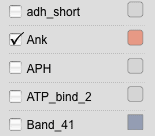 The Domain search module provides the possibility to select all sequences containing a specific domain. A list of domains combined with their graphical view provides a comprehensive survey of all available domains in the database. The domain pictures are clickable and link to further information about the domains via direct links to PFAM, prosite, and paircoils.
Newest sequences in CyMoBase
There was no activity the last 7 Days.